Ar­chae­o­lo­gists found clay to­kens that served as rec­ords of trade
July 20, 2014
906 Views
0 Likes
0 Comment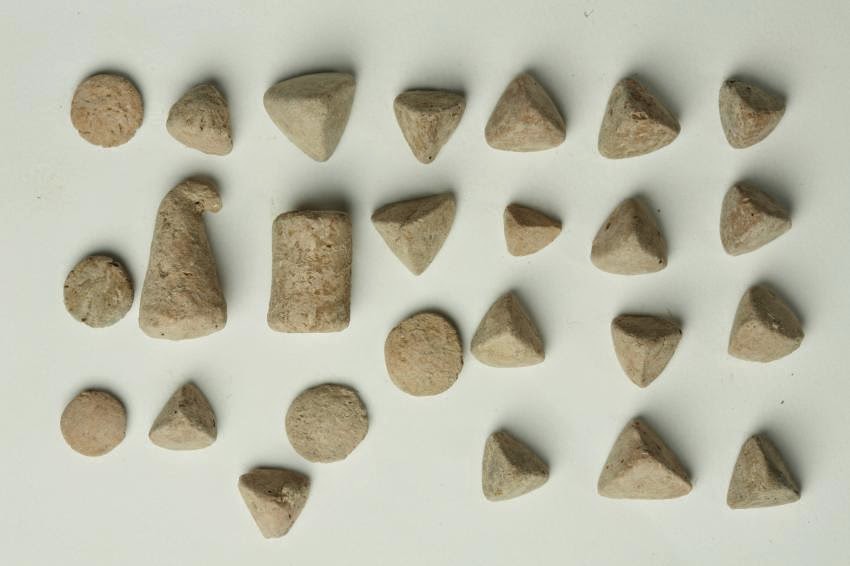 Ar­chae­o­lo­gists in south­east Tur­key have found clay to­kens that served as rec­ords of trade un­til the ad­vent of writ­ing, or so it was be­lieved.

But the new find dates from a time when writ­ing was com­mon­place – thou­sands of years af­ter the to­kens were thought to have been be­come ob­so­lete. Re­search­ers com­pare it to the con­tin­ued use of pens in the age of the word pro­ces­sor.

The to­kens – small clay pieces in a range of sim­ple shapes – are thought to have been used as a ru­di­men­ta­ry book­keep­ing sys­tem. One the­o­ry is that their dif­fer­ent types rep­re­sented un­its of var­i­ous com­mod­i­ties such as live­stock and grain. These would be ex­changed and lat­er sealed in more clay as a per­ma­nent rec­ord of the trade – es­sen­tial­ly, the world's first con­tract.

The sys­tem was used be­fore around 3000 BC, at which point clay tab­lets filled with pic­to­ri­al sym­bols drawn us­ing triangular-tipped reeds beg­in to emerge: the birth of writ­ing, and con­se­quently his­to­ry. From this point on, the to­kens dwin­dle and then dis­ap­pear, lead­ing to the as­sump­tion that writ­ing quickly sup­planted the to­ken sys­tem.

The ex­cava­t­ions at Zi­yaret Te­pe – the site of the an­cient ­city Tušhan, a pro­vin­cial cap­i­tal of the Neo-As­syr­i­an Em­pire – un­earthed many to­kens dat­ing to the first mil­len­ni­um B.C., 2,000 years af­ter "cu­nei­form" – the ear­li­est form of writ­ing – emerged on clay tab­lets.

"Com­plex writ­ing did­n't stop the use of the ab­a­cus, just as the dig­it­al age has­n't wiped out pen­cils and pens," said John MacGin­nis from Cam­bridge Uni­vers­ity in the U.K., who led the re­search. "In fact, in a lit­er­ate so­ci­e­ty there are mul­ti­ple chan­nels of rec­ording in­forma­t­ion that can be com­ple­men­ta­ry to each oth­er. In this case both pre­his­tor­ic clay to­kens and cu­nei­form writ­ing used to­geth­er."

The to­kens turned up in the main ad­min­is­tra­tive build­ing in Tu­šhan's low­er town, along with many cu­nei­form clay tab­lets as well as weights and clay seal­ings, the re­search­ers said. Over 300 to­kens were found in two rooms near the back of the build­ing that MacGin­nis de­scribes as look­ing like a 'de­liv­ery area', per­haps an an­cient load­ing bay.

"We think one of two things hap­pened he­re. You ei­ther have in­forma­t­ion about live­stock com­ing through he­re, or flocks of an­i­mals them­selves. Each farm­er or herd­er would have a bag with to­kens to rep­re­sent their flock," said Mac­Gin­nis.

"The in­forma­t­ion is trav­el­ing through these rooms in to­ken form, and end­ing up in­scribed on­to cu­nei­form tab­lets fur­ther down the line."

Ar­chae­o­lo­gists say that, while cu­nei­form writ­ing was a more ad­vanced ac­count­ing tech­nol­o­gy, by com­bin­ing it with the flex­i­bil­ity of the to­kens the an­cient As­syr­i­ans cre­at­ed a rec­ord-keeping sys­tem of great­er so­phis­tica­t­ion. "The to­kens pro­vid­ed a sys­tem of move­a­ble num­bers that al­lowed for stock to be moved and ac­counts to be mod­i­fied and up­dat­ed with­out com­mit­ting to writ­ing; a sys­tem that does­n't re­quire eve­ry­one in­volved to be lit­er­ate."

Mac­Gin­nis be­lieves that the new ev­i­dence points to pre­his­tor­ic to­kens used in con­junc­tion with cu­nei­form as an em­pire-wide 'ad­min' sys­tem stretch­ing right across what is now Tur­key, Syr­ia and Iraq. In its day, roughly 900 to 600 BC, the As­syr­i­an em­pire was the larg­est the world had ev­er seen.

Types of to­kens ranged from bas­ic balls, discs and tri­an­gles to to­kens that re­sem­ble ox-hide and bull heads.

While the ma­jor­ity of the cu­nei­form tab­lets found with the to­kens deal with grain trades, it's not yet known what the var­i­ous to­kens rep­re­sent. The team said that some to­kens likely stand for grain, as well as dif­fer­ent types of live­stock (such as goats and cat­tle), but – as they were in use at the height of the em­pire – to­kens could have been used to rep­re­sent com­mod­i­ties such as oil, wool and wine.

"One of my dreams is that one day we'll dig up the tab­let of an ac­count­ant who was mak­ing a me­tic­u­lous in­ven­to­ry of goods and sys­tems, and we will be able to crack the to­ken sys­tem's codes," said Mac­Gin­nis, whose find­ings are pub­lished in the Cam­bridge Ar­chae­o­log­i­cal Jour­nal.
Leave a comment