10 Keys for Maximizing the Benefits of your SPC Program
April 05, 2017
344 Views
0 Likes
0 Comment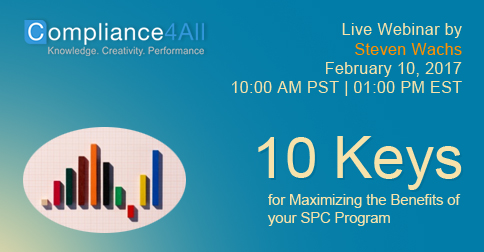 Overview:
Statistical Process Control charts have been called the Voice of the Process. Progressive manufacturers utilize control charts to "listen" to their processes so that potentially harmful changes will be quickly detected and rectified. However, not all SPC programs deliver to their highest capability as there are many elements to get right to achieve maximum utility.

Why should you Attend:
The webinar will provide a high level overview of Statistical Process Control. Ten important keys to maximize the benefits of SPC in any company are described in detail. The ten keys range from technical considerations to management practices. An understanding of these important factors will allow SPC to be implemented effectively so that the expected benefits may be realized.

Areas Covered in the Session:
The Purpose of SPC
Identifying Key Characteristics
Validating Measurement Systems
Selecting the Right Chart
Control Limits and Specification Limits
Effective Sampling Strategies
Adequate Sample Sizes
Automating SPC (Real Time)
Empowering Operators
Driving Process Improvement

Who Will Benefit:
The target audience includes personnel involved in process development, manufacturing, quality, program management, and business operations.
Quality & Process Engineers
Quality Technicians
SPC Supervisors
Production Supervisors
Personnel involved in process development and validation
Manufacturing/Operations Personnel
Process Improvement Personnel
Supplier Quality Personnel

Speaker Profile:
Steven Wachs has 25 years of wide-ranging industry experience in both technical and management positions. He has worked as a statistician at Ford Motor Company where he has extensive experience in the development of statistical models, reliability analysis, designed experimentation, and statistical process control. Mr. Wachs is currently a Principal Statistician at Integral Concepts, Inc. where he assists manufacturers in the application of statistical methods to reduce variation and improve quality and productivity.
Leave a comment