Best practices for maintaining civility while benefiting from the conveniences of technology
September 26, 2016
373 Views
0 Likes
0 Comment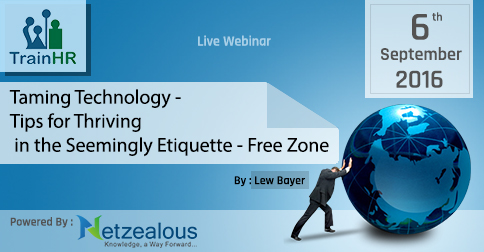 Overview:
At the height of his career in the early 1940's Albert Einstein said, "It has become appallingly clear that our technology has surpassed our humanity." If he thought things were bad back then, just imagine what he'd say about the vast incivilities we encounter almost daily in the seemingly "etiquette-free" world of technology!
Why should you attend: In a work-word almost entirely reliant on gadgets, your high-tech habits can help you or hurt you. Because "high-tech" often translates to "low touch", how you communicate can impact first impressions, relationships, and customer service. Your professionalism, whether you get promoted, and sometimes even profitability are impacted by how you manage your electronic communications and online reputation.
Areas Covered in the Session:
Avoid ineffective, and inappropriate, use of their gadgets can cost their reputation
Recognize common technology timewasters
Update their habits by applying current e-etiquette guidelines
Incorporate 5 best practices for maintaining civility while benefiting from the conveniences of technology
Who Will Benefit:
Anyone who uses Electronic Communication in his/her daily work
HR Professionals
CEO
Senior Vice President
Vice President
Executive Director
Managing Director
Regional Vice President
Area Supervisor
Manager
Instructor:
Lew Bayer A commitment to choosing civility and striving daily to practice what she preaches has made Lew Bayer an internationally recognized leader in her industry. For the past 14 years, Lew has lead the team at Civility Experts Worldwide- now 33 affiliates strong with representation in 12 countries- and earned the title of Canada's leading expert on civility in the workplace.
Lew is a recipient of the Manitoba Woman Entrepreneur of the Year Award for International Business. She was also nominated for the RBC Canadian Woman Entrepreneur of the Year Award in 2009, 2010 and 2011. In May 2010, Lew was the first Canadian to be awarded the prestigious AICI International Civility Star Award.
Release of The Power of Civility in May 2011 makes Lew an 8-time published author. She is a national columnist who is frequently called upon for expert advice and she has worked with organizations large and small in a range of sectors all over the world.
Contact Details:
NetZealous LLC, DBA TrainHR
Phone: +1-800-385-1627
Email: support@trainhr.com
Twitter Follow us: https://twitter.com/TrainHR1
Linkedin Follow us : https://www.linkedin.com/company/trainhr
Facebook Like Us: https://www.facebook.com/pages/Trainhr/1540069582910166
Leave a comment