CAPA Training and Causes of Warning Letters due to Lack of Comprehension
April 05, 2017
367 Views
0 Likes
0 Comment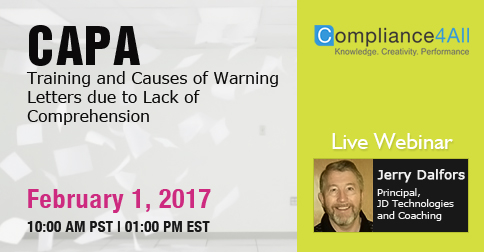 Overview:
A timely, well documented, Corrective / Preventive Action program validates a quality system that is not only capable of identifying potential problems but also effectively correcting problems when incidents do occur and as part of the Continuous Quality Improvement program, correcting potential problems prior to occurrence. Adequate incident tracking is the primary foundational element for an effective CAPA system.

Why should you Attend:
A vast majority of the current industry deficiencies which have led to isolated 483s, Warning Letters and Consent Decrees are the result of deficient technical documentation and effective means of assessing various elements of CAPA expectations for products produced and distributed under the FDA regulations.

Areas Covered in the Session:
Identification of the incident-Criticality of the Incident Tracking System separate from deviation tracking.
Evaluation of the impact or magnitude of the incident
Initiation and Risk Assessment to demonstrate compliance with Quality Systems Regulations
Investigation procedure to assess various strategies in accordance with current regulatory expectations
Root Cause Analysis avoiding subjective thinking to generate objective documentation.

Who Will Benefit:
Inspectors
Auditors
Quality and Documentation Personnel within the industry as well as Regulatory
Quality
Operations and Development

Speaker Profile:
Jerry Dalfors has extensive (40 years) of business administration, consultative, technical and managerial experience in the development and manufacture of highly regulated biopharmaceutical products including injectables, biologics, medical devices and oral dosages.
Leave a comment