Conducting Successful Product Complaint Investigations
April 05, 2017
355 Views
0 Likes
0 Comment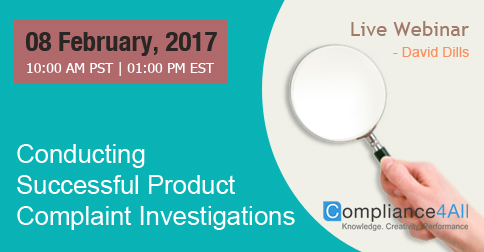 Overview:
An effective complaint handling system is an extremely important part of any quality system. Manufacturers should understand that any complaint received on a product shall be evaluated and, if necessary, thoroughly investigated and analyzed, and corrective action shall be taken.

Areas Covered in the Session:
Understand how and why CAPA is tied in to product complaint investigations
Examples of tools currently being used to conduct investigations
How far and in-depth do you go with your investigations
What are current FDA "hot" buttons and trends
Benchmarks and best practices for investigations
How to become a "good" investigator and the emphasis on closed-loop investigations
Why risk-based approaches are vital to the decision-making process
How to improve and bullet-proof your product complaint management system with investigations

Who Will Benefit:
All levels of Management for all departments and those who desire a better understanding
QA/QC/Compliance/Regulatory Affairs
Marketing & Sales & Customer Service
Engineering/Technical Services
Consultants
Operations and Manufacturing

Speaker Profile:
David Dills , Global Regulatory Affairs & Compliance Consultant, has an accomplished record with more than 26 years of experience within regulatory affairs, compliance and quality consultative services for early-stage/established Class I/II/III medical devices, IVDs, and bio/pharmaceutical manufacturers on the global landscape.
Leave a comment