Consumer E-Payments Complying with Auditor's Standards: Part I-Identifying and Understanding the Risks
April 05, 2017
268 Views
0 Likes
0 Comment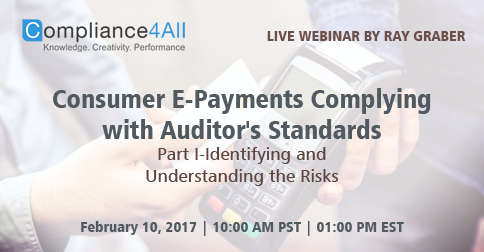 Overview:
The objective is to better understand the breadth of retail payments compliance issues and how to create a framework for reviewing both internal and third-party responsibilities for a successful audit. The primary objectives this session are to evaluate the effectiveness of the internal controls and risk management processes implemented by the financial institution and/or the technology service provider.

Why should you Attend:
This E-Payments compliance training will outline and discuss the emerging market of electronic payments. We will talk about risk profiles and the quality of risk management practices as required from internal and external auditors.

Areas Covered in the Session:
Assessing the risk level in consumer payments
Establishing the scope and objectives
Assessing the oversight quality
Risk management and support for bank card issuance
Quality of policies, procedures, and limits
Risk assessment and support for
EFT/POS processing
ACH processing
Emerging technologies
Conclusion

Who Will Benefit:
Financial Officers
Risk Officers
Internal Auditors
Operational Risk Managers
Business Managers/ Controllers
Accounting Managers and Staff

Speaker Profile:
Ray Graber has a deep and thorough understanding of banking, technology, and finance. His business experience includes banking technology research at TowerGroup; best practices internet security, policies, and procedures at FleetBoston Financial; wire transfer operations and product launches at Citibank and BankBoston; and treasury operations for a $325 million public company.
Leave a comment