Consumer E-Payments Complying with Auditor's Standards Part II-Specific Payments Types
April 05, 2017
3159 Views
0 Likes
0 Comment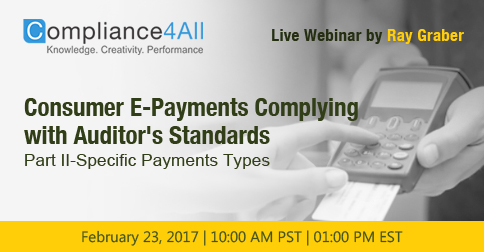 Overview:
The procedures provided in this session should not be construed as requirements for control implementation. The selection of controls and control implementation should be guided by the risk profile of the institution.

Why should you Attend:
Retail payment services expose financial institutions to numerous risks, including legal, compliance, strategic, operational, credit and liquidity. Depending on the complexity of retail payment system activity, the scope of the examination may require an integrated team approach that includes the knowledge, skills, and expertise of, IT, credit, and compliance specialists.

Areas Covered in the Session:
Assessing the environment
Establishing processes
Assessing resources
Quality of resources and support
Risk management assets
Risk assessments
EFT/POS processing
ACH processing
Emerging technologies
Conclusion

Who Will Benefit:
Financial Officers
Risk Officers
Internal Auditors
Operational Risk Managers
Business Managers/ Controllers
Accounting Managers and Staff

Speaker Profile:
Ray Graber has a deep and thorough understanding of banking, technology, and finance. His business experience includes banking technology research at TowerGroup; best practices internet security, policies, and procedures at FleetBoston Financial; wire transfer operations and product launches at Citibank and BankBoston; and treasury operations for a $325 million public company.
Leave a comment