Creating High Performance Expectations Of People (HPE)
April 05, 2017
496 Views
0 Likes
0 Comment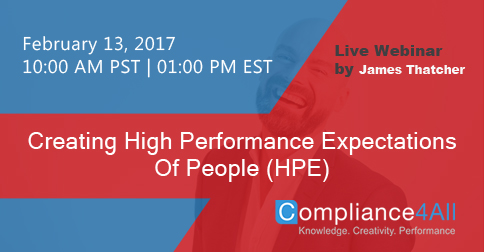 Overview:
This topic discusses in detail, the process of how to develop high performance expectations through setting SMART goals and objectives, getting the support you need in order to achieve the goals, and how to measure if the goals are working for you and the company you work for.

Why should you Attend:
So that in the EHS field, yearly, quarterly or monthly goals can be met by the EHS practitioner through the use of these practices. The purpose of high performance expectations and how they relate to goals is outlined. It shows how to align objectives with strategy at every level within the organization so that your goals and objectives match those of the company.

Areas Covered in the Session:
An overview of the process
Purpose of high performance expectations
Guiding principles
High performance objectives
Key accountabilities
Development plan
Employee and supervisors role
Next steps

Who Will Benefit:
All levels of EHS practitioners
Environmental Engineers
Health and Safety Professionals
Energy Professionals
EHS Managers
Chemical Engineers
Construction Managers
Government Officials

Speaker Profile:
James Thatcher the owner and President of Global Safety Solutions, LLC, headquartered in Divide, Colorado. Dr. Thatcher has 35 years of experience in the Oil and Gas, Metals/Minerals and Chemical industry, with management positions in engineering, operations, human resources, safety, health and environment, as well as training and security.
Leave a comment