Data Visualization with Excel
April 05, 2017
361 Views
0 Likes
0 Comment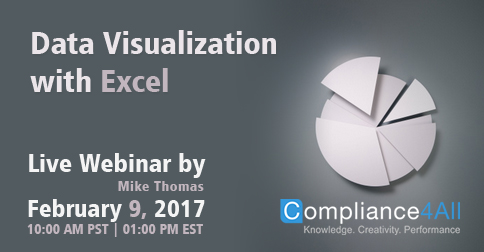 Overview:
There is a saying,a picture is worth a thousand words.In Excel that means finding ways to represent numerical data pictorially so that your audience can quickly and easily understand it. It's often easier to look at a chart or graph that interprets trends in a set of data, than to just look at a set of figures.

Why should you Attend:
Until a few years ago it was enough to take a set of numbers and create a bar chart or pie chart. Although in the right situation these traditional charts are still appropriate, things have moved on We're constantly hearing words like Data Visualisation and Infographic. It's time to get your Excel related business and communication skills up to date and learn how to use it to present data in the modern world.

Areas Covered in the Session:
Creating a traditional chart with a single keystroke
Annotating a chart with labels, titles and notes
Creating a line-bar combination chart
Creating a dynamic chart based on a Table
Creating Sparkline charts
Creating data visualisations using Shapes and SmartArt
Using Excel add-ins to create Infographics
Using Conditional Formatting to present data visually

Who Will Benefit:
Any Excel user who needs to go beyond the basics of using formulas or simply wants to become more comfortable and productive in using Excel formulas and functions.
Any Excel user who deals with large lists needs these tools and techniques to effectively manage the lists and become more productive. Nearly all Excel users, except for those just getting started, are candidates for this webinar.

Speaker Profile:
Mike Thomas has worked in the IT training business since 1989. He is a subject matter expert in a range of technologies including Microsoft Office and Apple Mac. In 2012 Mike founded theexceltrainer.co.uk where he has produced nearly 200 written and video-based Excel tutorials. He has recorded several Excel training courses for pluralsight.com and in his career delivered hundreds of courses and webinars on a wide variety of technology-related topics.
Leave a comment