FDA Regulation of Dietary Supplements
April 05, 2017
3206 Views
0 Likes
0 Comment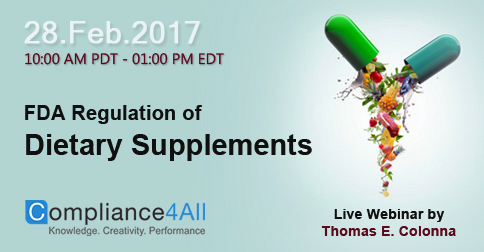 Overview:
FDA regulates both finished dietary supplement products and dietary ingredients. FDA regulates dietary supplements under a different set of regulations than those covering "conventional" foods and drug products. Under the Dietary Supplement Health and Education Act of 1994 (DSHEA).

Why Should you Attend:
To gain a fundamental understanding of FDA's regulation of Dietary Supplements.

Areas Covered in the Session:
Definition of dietary supplement
DSHEA
Good Manufacturing Practices
Structure/Function Claims
Health Claims

Who Will Benefit:
Regulatory professionals working in the field of dietary supplements
Compliance Manager
Validation Manager
Regulatory Manager
QC Managers
QA Managers

Speaker Profile:
Thomas E. Colonna earned a bachelor of science in microbiology from the University of Sciences in Philadelphia (formerly the Philadelphia College of Pharmacy and Science), a Ph.D. in molecular biology from the Johns Hopkins University, and a law degree from the Georgetown University Law Center. In addition, Dr. Colonna holds academic appointments at Johns Hopkins University and the University of Sciences in Philadelphia.
Leave a comment