Is it Method Verification or Validation, or Just Semantics
April 05, 2017
317 Views
0 Likes
0 Comment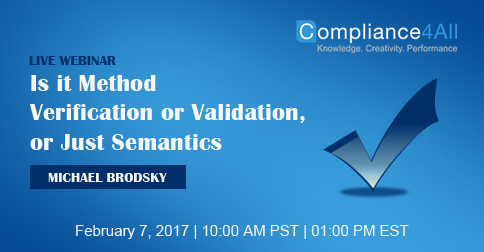 Overview:
The Webinar will discuss the distinction between and requirements for method validation and method verification, to comply with ISO/IEC Standard 17025:2005 for laboratory accreditation in food/water microbiology. Quantitative and Qualitative methods have different performance measurement requirements and require different statistical analyses.

Why should you Attend:
Without a clear understanding of the different analytical approaches for verification and validation, laboratories often end up doing more unnecessary, costly work, with little benefit. Very often the inappropriate analytical strategy used is unacceptable to meet the requirements for accreditation and the effort needs to be repeated. Learn to do it right the 1st time

Areas Covered in the Session:
Method performance characteristics.
Measuring and Monitoring Analytical competency
Food Categories and Food Types
Analytical requirements for Validation of Quantitative Methods
Analytical requirements for Validation of Qualitative Methods
Analytical requirements for Verification of Quantitative Methods
Analytical requirements for Verification of Qualitative Methods
Fitness for purpose

Who Will Benefit:
Microbiological bench analysts in food, water and pharmaceutical laboratories
QA Managers
Laboratory Managers/Supervisors and
QC Practitioners

Speaker Profile:
Michael Brodsky has been an Environmental Microbiologist for more than 41 years. He is a Past President of the Ontario Food Protection Association and AOAC International. He serves as Chair for the AOAC Expert Review Committee for Microbiology, as a scientific reviewer in Microbiology for the AOAC OMA and the AOAC Research Institute, as a reviewer for Standard Method for the Examination of Water and as a chapter editor on QA for the Compendium of Methods in Microbiology.
Leave a comment