Laboratory Accreditation: Getting there is just the beginning
April 05, 2017
3195 Views
0 Likes
0 Comment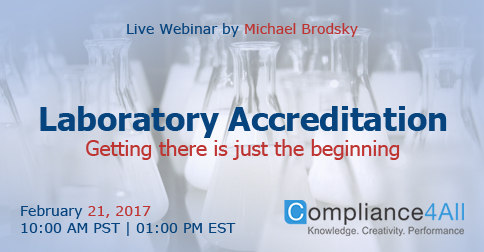 Overview:
Many laboratories struggle with developing and implementing a functional quality management system that not only complies with the management and technical requirements of ISO/IEC 17025:2005 but also meets their needs. Once accreditation has been achieved many laboratories have difficulty maintaining the QMS as evidenced by the number of non-conformances cited during the subsequent biannual audits.

Areas Covered in the Session:
Defining a Quality Management System (QMS)
Management Components of a QMS
Technical Components of a QMS
Method Selection, Validation and Verification
Ensuring analytical competency

Who Will Benefit:
Laboratory Managers
QA Managers
QC Analysts
College student/graduates in Science programs

Speaker Profile:
Michael Brodsky has been an Environmental Microbiologist for more than 41 years. He is a Past President of the Ontario Food Protection Association and AOAC International. He serves as Chair for the AOAC Expert Review Committee for Microbiology, as a scientific reviewer in Microbiology for the AOAC OMA and the AOAC Research Institute, as a reviewer for Standard Method for the Examination of Water and as a chapter editor on QA for the Compendium of Methods in Microbiology.
Leave a comment