Latest FDA Proposed Changes to the Process and Bullet Proof 510(k) Seminar
September 26, 2016
385 Views
0 Likes
0 Comment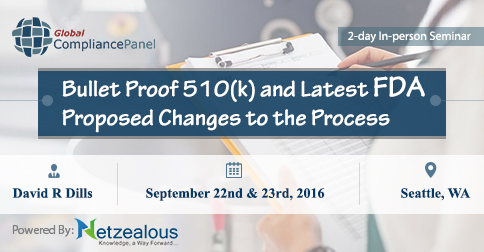 Overview:
This Two-day course is a primer and overview to the premarket notification process, i.e., a 510(k). A 510(k) is a premarket submission made to FDA to demonstrate that your device to be marketed is at least as safe and effective, that is, substantially equivalent, to a legally marketed device that is not subject to PMA. There are three types of Premarket Notification 510(k)s that may be submitted to FDA: Traditional, Special, and Abbreviated. The Special and Abbreviated 510(k) methods were developed under the "New 510(k) Paradigm" to help streamline the 510(k) review process. Product modifications that could significantly affect safety and effectiveness are subject to 510(k) submission requirements under 21 CFR 807 as well as design control requirements under the Quality System (QS) regulation. Under the QS regulation, all Class II and III devices and certain Class I devices are required to be designed in conformance to 21 CFR 820.30 Design Controls. FDA provides guidance and this course will address key resources when making critical decisions.
For more than 30 years, the 510(k) process has consistently done a good job of protecting patients against unsafe products. The process is well designed to assess the safety and effectiveness of low and moderate risk medical devices whose risks are well understood from experience with similar devices. Various industry trade groups and associations are now somewhat concerned that the number and scope of FDA's recently proposed 510(k) changes could negatively impact the agency's mission to ensure American patients have timely access to safe and effective medical technologies.
In comments submitted to FDA in response to the agency's release in August 2010 of more than 60 proposals to change the 510(k) process, industry has advocated that instead of implementing an extensive list of potentially disruptive proposals, FDA should focus on the proposals the agency has advanced that enjoy broad agreement and consensus, such as: increased reviewer training, development of specific and relevant guidance documents, and enhancements or improvements to the de novo review pathway, among other suggestions. This 1-day primer and course will provide an update to these proposals as appropriate and where we stand but more importantly, provide direction, guidance and clarity on preparing for, executing and submitting your 510(k) application.
Who will benefit:
CEOs &CFOs in medical device companies

VPs, Directors and Heads of Regulatory Affairs

VPs, Directors and Heads of Clinical Affairs

Senior and line Marketing and Sales Management

Regulatory Consultants

Risk Managers

Engineering & R&D

Professionals involved with premarket notification to the FDA

R&D personnel involved in approving the design of medical devices

Medical device sales and marketing personnel

Production & Operations
Objectives:
This seminar will provide an overview and in-depth snapshot of the process for preparing for and managing an FDA inspection efficiently, effectively and successfully. You will learn and understand how FDA trains its investigators and inspectors so that you can prepare and always be in a state of readiness. Attendees who will benefit include all levels of management and departmental representatives from key functional areas and those who desire a better understanding or a "refresh" overview of the FDA inspectional process, strategy, the tools to be used to assess and gauge state of preparation and readiness, including:
Know the differences between the Traditional, Special and Abbreviated submissions

Understand Substantial Equivalence and how it is applied

Who is required to submit the application to FDA

Where to submit the 510(k) and what to expect with the review and approval process

When it is and is not required if you are a device company

Exemptions to the submission process and special considerations

How to locate a "predicate" device and go through the content and format of the 510(k)

Understand the De Novo process and the expectations for possibly marketing a low risk device

Understand the potential impact of FDA's proposed changes to the 510(k) process and why manufacturers need to pay attention
Agenda:
Day 1 Schedule
Lecture 1:
Introduction and Regulatory Background
There is no 510(k) form; however, 21 CFR 807 Subpart E describes requirements for a 510(k) submission.

Current trends with the 510(k) process.
---
Lecture 2:
The Process
Who is Required to Submit a 510(k)

When a 510(k) is Not Required

When a 510(k) is Required

Locating and justifying the Predicate

Substantial Equivalence and demonstration of SE to another legally U.S. marketed device

How to Prepare Submissions

510(k) Submission Methods

List of forms associated with Premarket Notification 510(k) submissions

Deciding When to Submit a 510(k) for a Change to an Existing Device

What happens if FDA requires additional information and data and your responsibilities
Day 2 Schedule
Lecture 3:
Interactive Q&A, Wrap-Up and Adjourn
Q&A with all participants and attendees

Group discussion and review of recent 510(k) clearances and proposals and recommendations between FDA and industry

Discussion Points: some of the recommendations have included, but not limited to, redefining fundamental terms, limiting use of predicates, greater authority to rescind 510(k)s, etc.

510(k) Frequently Asked Questions

Attendees and participants should be prepared to address any issues and challenges as experienced on behalf of their company in this open-forum and interactive session
Speaker:


David R. Dills
Regulatory Affairs & Compliance Consultant,
David R. Dills, Global Regulatory Affairs & Compliance Consultant, has an accomplished record with more than 26 years of experience within regulatory affairs, compliance and quality consultative services for early-stage/established Class I/II/III medical devices, IVDs, and bio/pharmaceutical manufacturers on the global landscape. Previously employed, with increasing responsibilities by device manufacturers and consultancies, including a globally recognized CRO, has worked directly with and for manufacturers engaged in compliance remediation activities involving consent decrees, CIA's, FDA warning letters, and customer generated compliance events, provides Strategic GxP Compliance and Regulatory Consulting, handles all aspects of global regulatory submissions and dossiers, including 510(k), PMA, Design Dossiers, Technical Files, CMC, NDA, and IDE submissions, currently serves as a U.S. Agent, works with stakeholders and Center Reviewers regarding submission meetings/negotiations, clinical affairs, and provides regulatory submissions and post-market project leadership/guidance covering different therapeutic and medical specialties based on classification. His background encompasses broad capabilities in regulatory and compliance oversight and governance, including CAPA, Design Controls, Validation, Software Quality with regulatory oversight, FDA Mock Inspections, remediating documentation management systems, Supplier Quality, Adverse Event Reporting, Product Complaints, GxP Training, interpretation and applicability of FDA and international regulations and standards, postmarketing surveillance, ISO 13485 and CE Mark, Medical Device/IVD/Active Implantable Directives. Mr. Dills leads and manages efforts involving multi-country product registrations and licensing in Asia Pacific, EMEA and The Americas from premarketing to postmarketing, and works with the Regulatory Authorities and strives to provide consistent, practical compliance solutions that work with reduction of regulatory compliance risk.
Location:
Seattle, Washington

Date
:
September 22nd & 23rd, 2016 and

Time:

09:00 AM to 06:00 PM
Venue: Courtyard Seattle Sea-Tac Area
Address: 16038 West Valley Highway Tukwila Washington 98188 USA
Price:
Register now and save $200. (Early Bird)
Price: $1,295.00 - Without Stay
Until August 10, Early Bird Price: $1,295.00 from August 11 to September 20, Regular Price: $1,495.00
Price: $1,695.00 - With Stay
Until August 10, Early Bird Price: $1,695.00 from August 11 to September 20, Regular Price: $1,895.00
Register for 5 attendees (With stay) Includes Price: $5,933.00 $8,475.00 You Save: $2,542.5 (30%)*
Until August 10, Early Bird Price: $8,475.00 from August 11 to September 20, Regular Price: $8,675.00
Quick Contact:
NetZealous DBA GlobalCompliancePanel
Phone: 1-800-447-9407
Fax: 302-288-6884
Email: support@globalcompliancepanel.com
Website: http://www.globalcompliancepanel.com
Registration Link - http://bit.ly/29kJUM0-Bullet-Proof-510
Follow us on LinkedIn: https://www.linkedin.com/company/globalcompliancepanel
Leave a comment