Latin America Regulatory Compliance: Current Challenges in Argentina, Brazil and Mexico
April 05, 2017
633 Views
0 Likes
0 Comment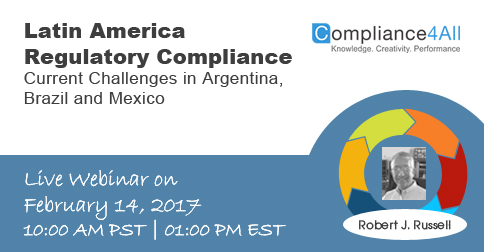 Overview:
The Latin America Regulatory compliance requirement training/webinar will cover topics across the full Life-Cycle of Company & Product licensing in the key markets of Latin America. Written Regulations vs. Skillful Negotiation will be explained across every critical topic. The importance of local resources, Agency meetings and knowing how to navigate the regulatory landscape will accelerate country establishment and successful product licensing.

Why should you Attend:
This course specifically focuses on the overall regulatory compliance requirements and procedures for Pharmaceuticals, Medical Devices, Biologics, Biosimilar, Orphan Drugs and Combination Products in Latin America. The primary countries covered will include: Argentina, Brazil and Mexico.

Areas Covered in the Session:
Glossary of Terms.
Defining the Opportunity: Overview of Latin America
Country Facts: Argentina, Brazil, Mexico.
Latin America's Regulatory Structure for the Life Science Product Industries
Brazil – ANVISA Structure & Insight to Operations
Mexico – COFEPRIS Structure & Insight to Operations

Who Will Benefit:
Regulatory personnel whose responsibilities require knowledge of Latin America's regulatory environment.
Administrative staff responsible for ensuring compliance with regulatory filings and overall regulatory compliance requirements will also find this training highly relevant.
QA / QC Personnel
Global Supply Chain personnel
Clinical / Pharma & Device personnel
Manufacturing personnel
Global Business Development personnel

Speaker Profile:
Robert J. Russell For the past 9 years, Bob has been President of RJR Consulting, Inc. The company assists the pharmaceutical, medical device and biotech industries in understanding and complying with International Regulations affecting compliance, new product development, manufacturing and quality assurance.
Leave a comment