Master HIPAA Compliance in Six Steps conference 2016
September 26, 2016
553 Views
0 Likes
0 Comment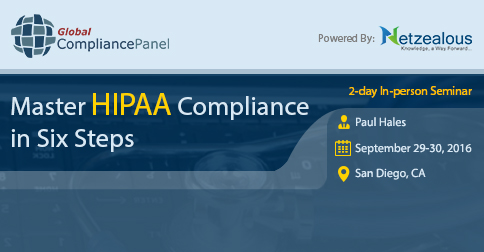 Overview:
Paul Hales, with a team of expert advisors and practical field testers, have created a method of making all HIPAA regulations accessible to the everyday person, explained in plain language with exact citations to each regulation for the benefit of the organizations' legal counsel who may not be experienced in HIPAA. Save money, save time, save research. It will create a level of quality to the advice that the legal counsel provides. Take a two day journey with Paul as he delves into all the elements of HIPAA Compliance. He will discuss how to grow your Practice and be compliant in a practical way. Paul's method is the very foundation that will enable your organization to enact their HIPAA Compliance Program and strategize how to grow what is more important: your Patients.
Why should you attend?
Jocelyn Samuels, the top Federal official in charge of HIPAA enforcement, Jocelyn Samuels, just said the one critical thing covered entities and business associates must do to ensure compliance with HIPAA's Privacy, Breach, and Security Rules is a HIPAA Risk Analysis - "... a comprehensive and thorough approach to assessing and addressing the risks to all of the protected health information (PHI) they maintain." Risk Analysis is mandatory, however, 2012 audits found 80% of health care providers failed to comply wth this mandatory requirement. Covered Entites and Business Associates are under intense pressure to do a HIPAA Risk Analysis of all PHI they maintain - and have been left on their own to do it. No wonder HHS found 80% of health care providers failed to do the Risk Analysis. HIPAA violations are increasing dramatically. 2015 was the "Year of the Breach". Expect both increased government enforcement and private lawsuits. Let this seminar not only walk you through a Risk Analysis for your organization but also delve into the Privacy, Breach, and Security Rules as applicable to your organization, whether you are a Covered Entity or Business Associate. This Rules should not be hinderances to growing your organization.
Who will benefit:
Health Care Provider - Business Associate

Health Care Provider Practice Manager

Risk Manager - Compliance Manager

Information Systems Manager

Compliance Director

Practice Manager

Privacy Officer

Security Officer

CEO

CFO

COO

Chief Information Officer

Health Information Manager

Healthcare Legal Counsel

Office Manager

Contracts Manager

Chief Clinical Officer

Human Resources
Agenda:
Day 1 Schedule
Lecture 1
:
Practical HIPAA Law - What is HIPAA?

How does it relate to you and your organization?

How does it apply to your everyday operations and affect your organization?
Lecture 2:
KEY HIPAA Rules for Growing Your Business Part 1

Communicating with Patients
Lecture 3:
KEY HIPAA Rules for Growing Your Business Part 2

Communicating with Patients: Social Media, Emailing & Text Messaging
Lecture 4:
Day 2 Schedule
Lecture 1:
HIPAA Risk Analysis

Clarified, Explained, Demonstrated
Lecture 2:
Breach?

HIPAA Breach Notification Rule - What You Must Do to Comply?

Potential Assessment, Investigation, Notification, Mitigation, Protection, & Prevention
Lecture 3:
Lecture 4:
Documentation, Documentation, Documentation!

Get Ready For Your HIPAA Compliance Audit
Speaker:


Paul Hales
Attorney at Law, St. Louis, Missouri, Paul R. Hales, Attorney at Law, LLC


Paul Hales J.D, is an expert in HIPAA compliance law. Mr. Hales is a graduate of Columbia University Law School, licensed to practice before the Supreme Court of the United States, Federal Appellate and District Courts, and Missouri state courts. He specializes in compliance with HIPAA Privacy, Security, Breach Notification and Enforcement Rules and is the author of all content in The HIPAA E-Tool?, an Internet-based, complete HIPAA compliance solution for health care providers and business associates.
Location:
San Diego, CA

Date
:
September 29th & 30th, 2016 and

Time:

09:00 AM to 06:00 PM
Venue: Four Points By Sheraton San Diego Downtown
Address: 1617 1st Avenue - San Diego, California, 92101 - United States
Price:
Price: $1,295.00 (Seminar Fee for One Delegate – without stay)
Until August 25, Early Bird Price: $1,295.00 from August 26 to September 27, Regular Price: $1,495.00
Price: $1,695.00 (Seminar Fee for One Delegate – with stay)
Until August 25, Early Bird Price: $1,695.00 from August 26 to September 27, Regular Price: $1,895.00
Register for 5 attendees (With stay) Includes Price: $4323.00
$8,475.00 You Save: $4,152.00 (49%)*
Register now and save $200. (Early Bird)
Quick Contact:
NetZealous DBA GlobalCompliancePanel
Phone: 1-800-447-9407
Fax: 302-288-6884
Email: support@globalcompliancepanel.com
Website: http://www.globalcompliancepanel.com
Registration Link - http://bit.ly/2bnyIyj-Master-HIPAA-Compliance
Follow us on LinkedIn: https://www.linkedin.com/company/globalcompliancepanel
Leave a comment