Predictive Warranty using Paynter Charts
April 05, 2017
3516 Views
0 Likes
0 Comment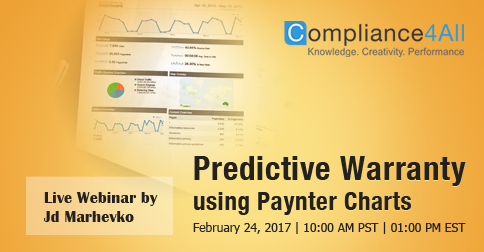 Overview:
This session shows practitioners how to develop and create a Paynter Chart for predictive warranty management. Attendees will see how to actively utilize representative return data, observe the construction of a sample Paynter and then observe the results of the predictive analysis.

Why should you Attend:
Quality practitioners must understand how their VOC field return information can be leveraged to aid them in proactively mitigating risk and working across the supply chain when something goes wrong.

Areas Covered in the Session:
To help people understand how Paynter Charts can be effectively utilized for predictive warranty management.
Increased understanding of how to share results with management to mitigate business exposure.
Increased understanding of how to leverage visual tools to show process results.

Who Will Benefit:
Quality, Lean and Engineering system practitioners
Directors
Vice-Presidents
Engineers
Analysts
Managers, etc.

Speaker Profile:
Jd Marhevko has served as Vice President of Quality and Lean for Accuride Corporation since April 2012, having joined the company as Vice President, Quality in January 2012. She has been involved in Operations and Quality/Lean/Six Sigma efforts across a variety of industries for more than 25 years. Extensively experienced in developing cost-effective and value-added quality and lean systems enterprise-wide, Marhevko has an impressive track record of success in aligning goals to drive process improvement and productivity.
Leave a comment