Seminar on Protect your Organization with Healthcare Compliance Program 2016
September 26, 2016
641 Views
0 Likes
0 Comment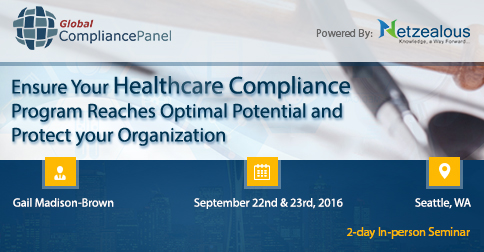 Overview:
The topics will begin with an introduction into the basic healthcare compliance infrastructure necessary to establish a comprehensive and proactive compliance program. It will progress throughout the sessions to discuss current government auditing agencies and audits that are underway, as well as an in-depth discussion of government agencies responsible for protecting the Medicare Trust Fund from Fraud, Waste and Abuse. Our participants will learn how to identify risks in their organizations, regardless of the size, by conducting a risk assessment and developing a work plan based upon risk that will assist with mitigation efforts. Participants will also learn about the OCR audits and how to conduct their own self-assessment in preparation for an audit, as well as address any identified deficiencies. Auditing and monitoring activities will be covered and how to conduct them and what to do with findings. Complaint management and conducting an investigation will be discussed with the participants. All sessions will provide user friendly templates and tools that can be used to enhance current compliance programs, as well as numerous case scenarios.
Why should you attend:
Healthcare providers and entities or organizations involved in any type of healthcare transaction, especially those who bill or are involved with services payable by a CMS program, play an important role in not only protecting the integrity of the CMS programs by ensuring they are cognizant and comply with the various laws; but also by implementing necessary compliance initiatives. Providers, entities and organizations who bill Medicare, Medicaid or other government payor programs must development and maintain appropriate compliance programs, with a special emphasis on auditing and monitoring, appropriate training, receiving and responding to complaints and conducting investigations. If your compliance program does not incorporate necessary control processes, you are at risk for potential audits that may lead to civil, monetary and criminal penalties. Understanding potential risks that target your practice or organization, responding and mitigating deficiencies could be vital in sustaining your success and viability, as well as having an impact on any negative findings by an external audit or investigative agency. Lastly, healthcare delivery is undergoing dramatic changes that may affect healthcare provider reimbursement. Quality of care and reduced costs will affect provider reimbursement for services. You need to understand how these changes will affect you. Attending these progressive sessions will assist you with your efforts to building a solid and proactive compliance program.
Areas Covered in the Session:
OIG and best practices to establish your solid and effective compliance program or enhance your current program to optimal proficiency

Latest government and third party pay or audit updates

Auditing and monitoring readiness for all size healthcare organizations

Understanding and complying with healthcare laws and regulations

How to conduct an annual compliance risk assessment and develop a work plan to mitigate risk to your practice, hospital or organization

Preparation for Office of Civil Rights desk or on-site HIPAA audits with a main focus on privacy. Policies and training will be discussed for security and privacy

Learn how to address, manage or mitigate risk identified through auditing and monitoring activities

Enhance your current investigation processes or implement a protocol to assist with ensuring that your investigations are comprehensive and provide appropriate corrective actions

Discussion regarding how the Medicare Access and CHIP Reauthorization Act of 2015 may impact physician payments and other questions that healthcare providers need to know
Who will benefit:
Healthcare Providers

Hospital and Practice Administrators

Compliance and Privacy Professionals

Revenue Cycle Personnel Including Coders and Billers

Consultants

Internal Audit Personnel

Financial officers and Operating Officers

Clinical Staff

Quality Improvement and Risk Management Professionals
Agenda:
Day 1 Schedule
Lecture 1:
Necessary Building Blocks to Start or Enhance your Compliance Program
Session will encompass OIG recommended compliance criteria, best practice approaches for physician practices, hospitals and academic medical centers and provide the skills to ensure a proactive and effective compliance program.
Lecture 2:
Current Government Audit Forecast
Session will provide current updates & trends on most common auditing activities conducted by government agencies, as well as strategies to prepare, manage and mitigate risk to your organization.
Lecture 3:
Protect Your Organization from Claims of Fraud, Waste or Abuse
Session will describe most common government agencies responsible for reducing healthcare fraud, waste and abuse, as well as common issues that health care providers encounter and best practices for preparedness.
Lecture 4:
Now What's Your Risk? Conducting the Annual Compliance Risk Assessment
Session will cover the risk and self-assessment, along with templates for use or modification, with a focus on healthcare risk, but will also include other issues common among academic medical centers.
Day 2 Schedule:
Lecture 1:
Office of Civil Rights Begins HIPAA Audits. Are You Prepared?
Session will cover conducting a HIPAA privacy self-assessment, using a template and tool to utilize. You will learn how to promptly address any deficiency findings.
Lecture 2:
Addressing Risk and Mitigation Steps
Session will dive into auditing and monitoring of high-risk activities or arrangements that have been identified by the risk assessment process. You will learn how to conduct monitoring and audit reviews, as well as how to address areas of identified deficiencies.
Lecture 3:
Are You Addressing Complaints Correctly? Conducting a Comprehensive Compliance Investigation
Session will discuss triaging complaints, assigning the appropriate personnel to investigate, essential components of the investigation, including interviewing of witnesses and finally recommendations and mitigation of any identified risks.
Lecture 4:
Medicare Access and CHIP Reauthorization Act of 2015 "MACRA"
Session will discuss elements of MACRA and impact on physician Medicare payments as well as other frequently asked questions.
Speaker:
Gail Madison-Brown
Chief Clinical Trials Officer, UTHSCSA
Gail Madison-Brown is a registered nurse and an attorney with over 25 years of experience in health care. For the last 15 years she has focused on healthcare compliance and revenue cycle management operations. Gail's experience ranges from starting new compliance programs and making improvements to existing programs for physician practices to large health care organizations. Gail also has provided numerous lectures to healthcare providers, executives and professional colleagues.
Location: Seattle, WA Date: September 22nd & 23rd, 2016 and Time: 9:00 AM to 6:00 PM
Venue: Courtyard Seattle Sea-Tac Area
Address: 16038 West Valley Highway Tukwila Washington 98188 USA
Price:
Register now and save $200. (Early Bird)
Price: $1,295.00 (Seminar fee for One Delegate)
Until August 15, Early Bird Price: $1,295.00 from August 16 to September 20, Regular Price: $1,495.00
Quick Contact:
NetZealous DBA as GlobalCompliancePanel
Phone: 1-800-447-9407
Fax: 302-288-6884
Email: support@globalcompliancepanel.com
Website: http://www.globalcompliancepanel.com
Registration Link - http://bit.ly/29mCMQS-healthcare-compliance
Follow us on LinkedIn: https://www.linkedin.com/company/globalcompliancepanel
Leave a comment