Chimp culture reaches new heights with "grass-in-the-ear" trend
July 07, 2014
706 Views
0 Likes
0 Comment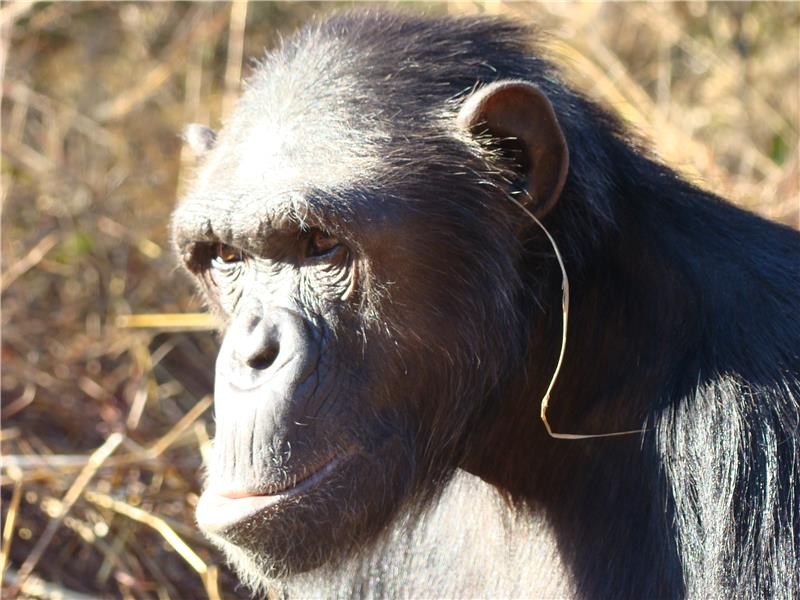 Chim­panzees are cop­y­cats and, in the pro­cess, they form new tra­di­tions that are of­ten spe­cif­ic to just one group.
Such are the find­ings of an in­terna­t­ional group of sci­en­tists, who wad­ed through over 700 hours of vi­deo foot­age to un­der­stand how it came about that one chim­pan­zee stuck a piece of grass in her ear and started a new trend.
Unfortunately, Julie, the in­vent­or of the trend, died. It continued without her.
The find­ings of the stu­dy, led by Ed­win van Leeu­wen of the Max Planck In­sti­tute for Psy­cho­lin­guist­ics in The Neth­er­lands, are pub­lished in the re­search jour­nal 
An­i­mal Cog­ni­tion
.
It was in 2010 that van Leeu­wen first no­ticed how Ju­lie re­peat­edly put a stiff, straw­like blade of grass for no ap­par­ent rea­son in one or both of her ears. She left it there even when she was groom­ing, play­ing or rest­ing in Zam­bi­a's Chim­fun­shi Wild­life Or­phan­age Trust sanc­tu­ary. On sub­se­quent vis­its, van Leeu­wen saw that oth­er chim­pan­zees in her group had started to do the same.
This aroused his in­ter­est to find out if they cop­ied what Ju­lie did by watch­ing and learn­ing from her through so-called so­cial learn­ing. The re­search team, in­clud­ing Zam­bians who mon­i­tor the chim­pan­zees dai­ly, col­lect­ed and an­a­lyzed 740 hours of foot­age that had been shot dur­ing the course of a year of 94 chim­pan­zees liv­ing in four dif­fer­ent so­cial groups in the sanc­tu­ary. Only two of these groups could see one anoth­er.
The re­search team found that only one of the four groups reg­u­larly per­formed this so-called "grass-in-the-ear" be­hav­ior. In one oth­er group one chim­pan­zee once did the same. Eight of the twelve chim­pan­zees in Ju­lie's group re­peat­edly did so. The first to copy her was her son, Jack, fol­lowed by Kathy, Mir­a­cle and Val with whom she reg­u­larly in­ter­acted. Gen­er­ally at least two of the chimps put grass in their ear at the same time. Interest­ingly, the chim­pan­zees Kathy and Val kept up the cus­tom even af­ter Ju­lie, the orig­i­nal in­ven­tor, died.
The ob­serva­t­ions show that there's noth­ing ran­dom about in­di­vid­ual chimps stick­ing grass in­to their ears, the re­search­ers ar­gue. The an­i­mals spon­ta­ne­ously cop­ied the ar­bi­trary be­hav­ior from a group mem­ber. Chim­panzees have a ten­den­cy to learn from one anoth­er – clearly a case of "mon­key see, mon­key do" in fact. Van Leeu­wen sug­gests that those an­i­mals that find a spe­cif­ic be­hav­ior some­how re­ward­ing will con­tin­ue to do so on their own, even if the chim­pan­zee they have learn­ed it from is no long­er around.
"This re­flects chim­pan­zees' pro­cli­vity to ac­tively in­ves­t­i­gate and learn from group mem­bers' be­hav­iors in or­der to ob­tain bi­o­log­ic­ally rel­e­vant in­forma­t­ion," says van Leeu­wen. "The fact that these be­hav­iors can be ar­bi­trary and out­last the orig­i­na­tor speaks to the cul­tur­al po­ten­tial of chim­pan­zees."
Source :
http://www.world-science.net/
Leave a comment
Search Similar Posts
No tags found for this post